Description
10. Antonio Freeman, Super Bowl 32 (9 Rec/126 Yds/2 TD)
---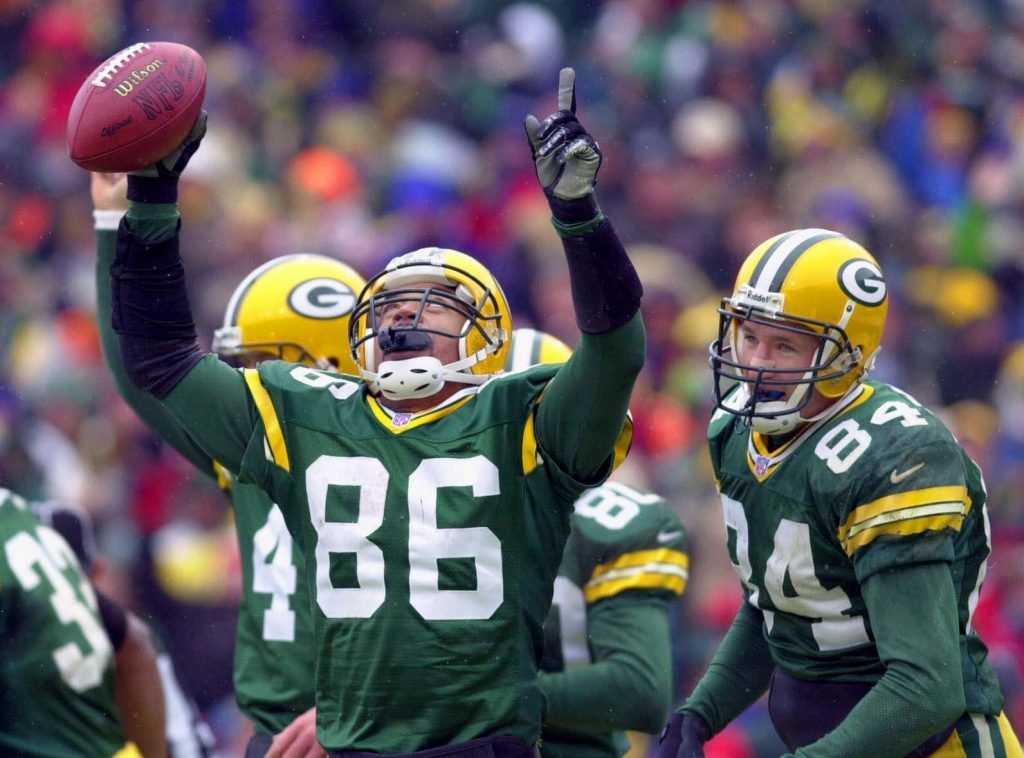 Brett Favre's favorite target, Antonio Freeman, came up with a gem of a performance in what would be Favre's last chance to capture a ring. The Packers would unfortunately fall to Elway's Broncos in an extremely close game, but Antonio Freeman certainly did his part to win.
Freeman caught 2 touchdown passes from Favre, and collected 126 yards through his 9 receptions. His second touchdown came in a huge spot, knotting the game up at 24 points apiece at the beginning of the 4th quarter.
While Antonio Freeman will always be remembered for his astonishing catch against the Vikings on Monday Night Football, we don't want anyone to forget his brilliant Super Bowl effort.
9. Michael Irvin, Super Bowl 27 (6 Rec/114 Yds/2 TD)
---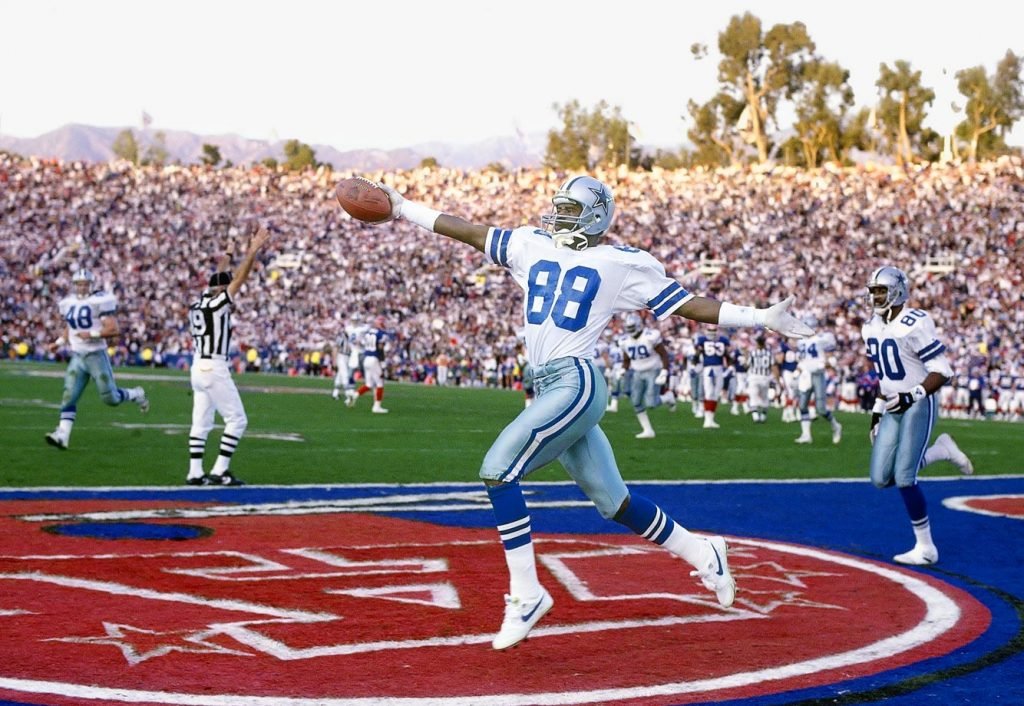 In one of the biggest Super Bowl blowouts of all time, the lethal combination of Troy Aikman and Michael Irvin helped to propel the Cowboys to a huge 52-17 win. Irvin caught 2 of Aikman's 4 touchdown passes, and added 114 total receiving yards to go along with it.
Thanks to Irvin's contribution, the Cowboys win would be their first Super Bowl championship in 15 years, and helped to ignite a dynasty that would rule the NFL in the 90's.
8. Santonio Holmes, Super Bowl 43 (9 Rec/126 Yds/1 TD)
---
Though the Steelers' Santonio Holmes may not have the best game stats on this list,  it was the way he achieved those stats which put him here. After Larry Fitzgerald's huge touchdown put his team up 23-20 with 2 and a half minutes remaining, Santonio Holmes caught 5 huge passes on Pittsburgh's game-winning drive, ending in one of the most memorable touchdown catches ever, and went on to become Super Bowl 43's MVP.
7. Lynn Swann, Super Bowl 10 (4 Rec/161 Yds/1 TD)
---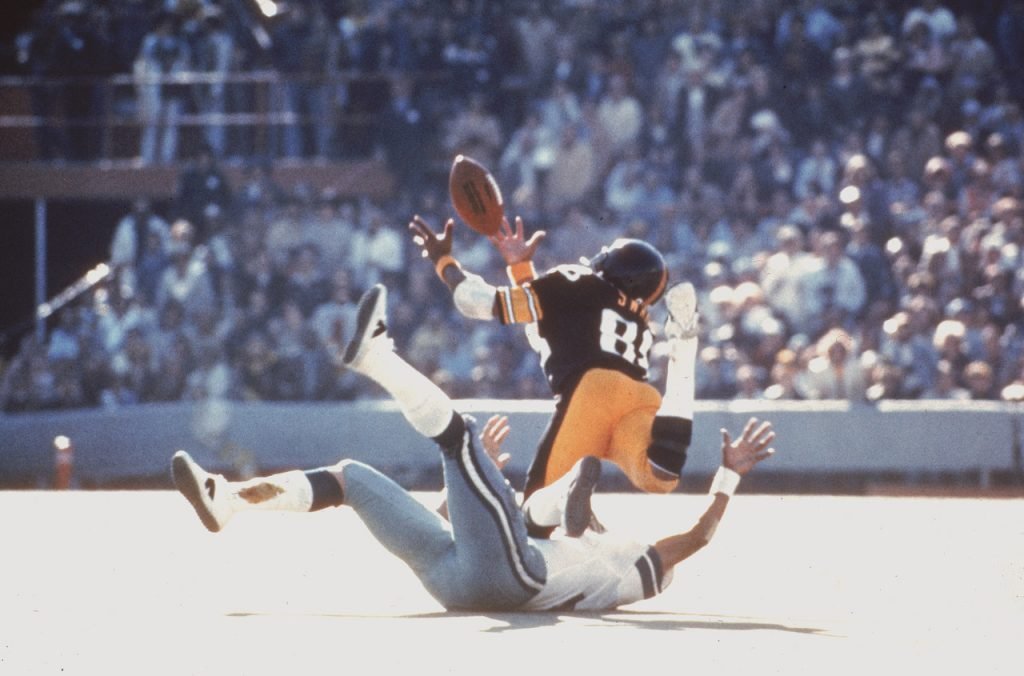 Lynn Swann's Super Bowl 10 performance against the Cowboys included 2 amazing catches, one of them being among the most iconic catches in NFL history. Leaping up for a deep pass against Cowboys cornerback Mark Washington, Swann bobbled the ball but kept his eye on the prize the whole time, catching it for good as he was falling to the ground. Swann finished the game with 161 yards and a touchdown on just 4 receptions, totaling an insane 40 yards per catch in a Steelers Super Bowl victory.
6. Larry Fitzgerald, Super Bowl 43 (7 Rec/127 Yds/2 TD)
---
Arguably one of the best playoff wide receivers ever, Cardinals wideout Larry Fitzgerald has always shown up in big games. On the biggest stage of his life, Super Bowl 43 against the Pittsburgh Steelers, this was never more true.
"Fitz" finished the game with 127 yards and 2 scores off of 7 receptions, with an unforgettable 64 yard touchdown with 2 and a half minutes to go in the 4th quarter against one of the best defenses in football. This score would put his team up by 4 points, but unfortunately wouldn't be enough to get Larry a much deserved Super Bowl ring.
5. Max McGee, Super Bowl I (7 Rec/138 Yds/2 TD)
---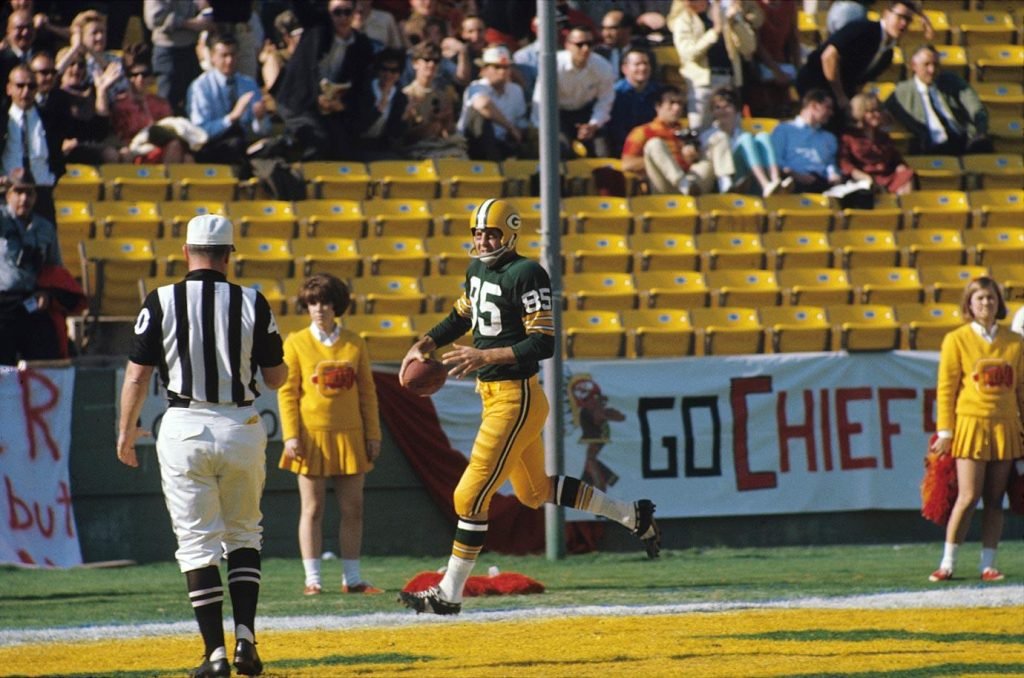 The first Super Bowl ever held featured one of the greatest wide receiver performances to this day. Finishing the game with 2 touchdowns off of 7 receptions and 138 yards, Max helped the Packers hammer the Chiefs in a 35 to 10 victory. Aside from the impressive stats, one of the main reasons why he deserves a spot on this list is the fact that McGee was brought off the bench as a replacement for the injured Boyd Dowler. He came into the game having only previously caught 4 catches the entire season.
4.  Jerry Rice, Super Bowl 23 (11 Rec/215 Yds/1 TD)
---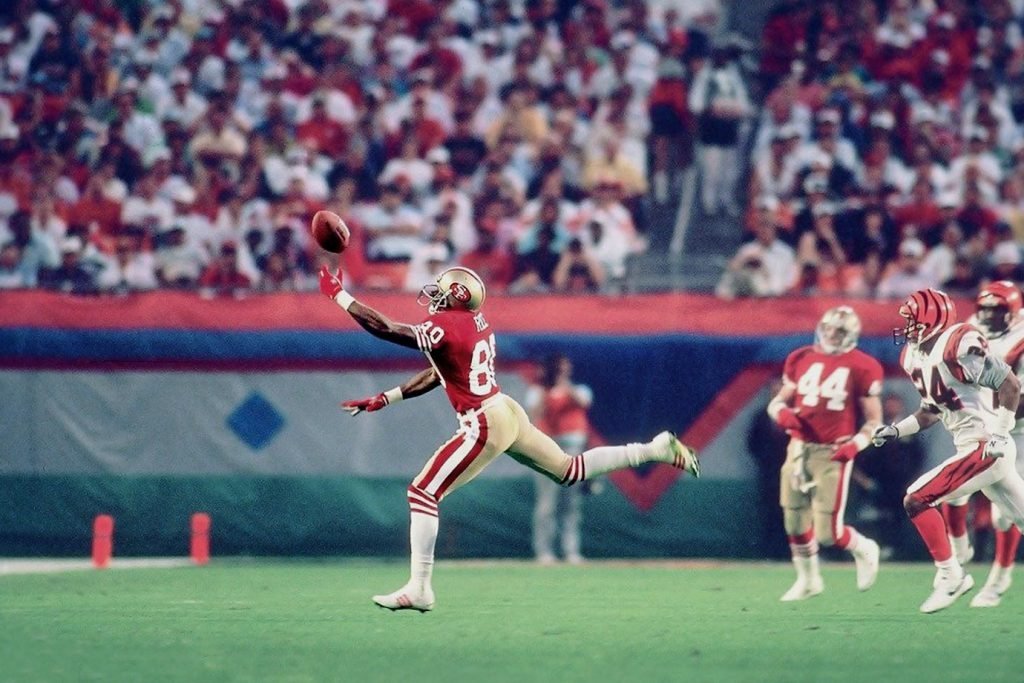 This would mark the first Super Bowl appearance for Jerry Rice but it certainly wouldn't be his last. It's no surprise that one of the greatest wide receivers of all time would dominate this list. With a total of 215 yards, Rice broke a record just set by Ricky Sanders in the previous Super Bowl 22. A Super Bowl yardage record that has yet to be surpassed. Even though he only caught one touchdown pass, Rice toyed with the Bengal's defense with 11 total receptions. His tremendous performance earned him the Super Bowl MVP.
3. Jerry Rice, Super Bowl 24  (7 Rec/148 Yds/3 TD)
---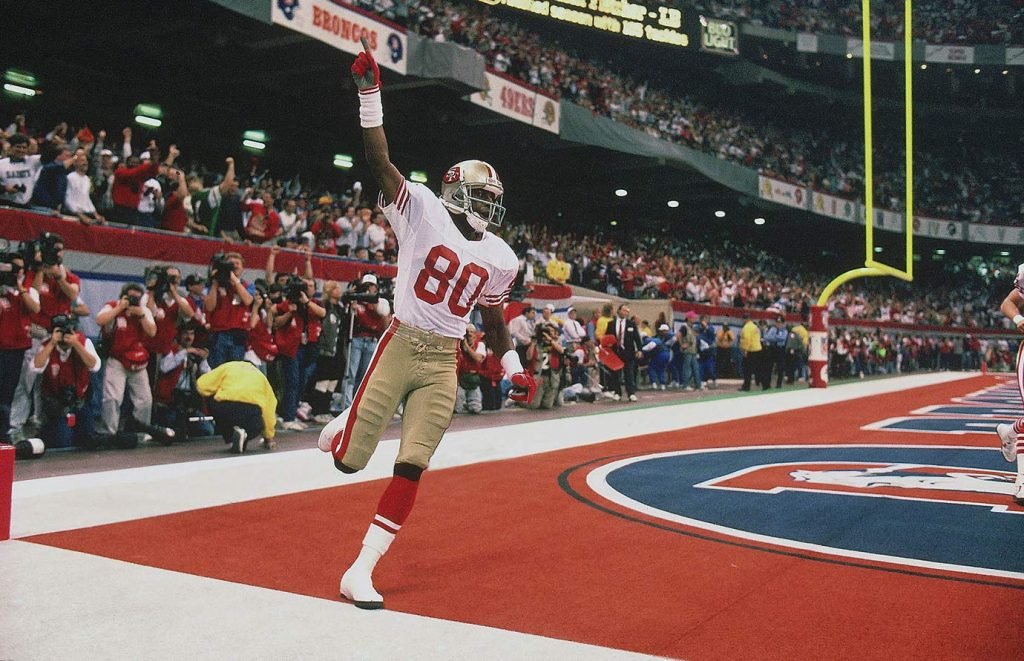 Impressively, Jerry Rice put together two tremendous back to back Super Bowl performances. This time however, Jerry would catch 3 touchdown passes. Denver had no answer for the Rice and Montana duo. Jerry's 7 receptions and 148 yards helped the 49ers completely dominate the Broncos in a blowout 55 to 10 win. Despite the contribution, Rice missed out on the Super Bowl MVP trophy that year. The trophy would instead go to 49ers quarterback Joe Montana.
2. Ricky Sanders, Super Bowl 22  (9 Rec/193 Yds/2 TD)
---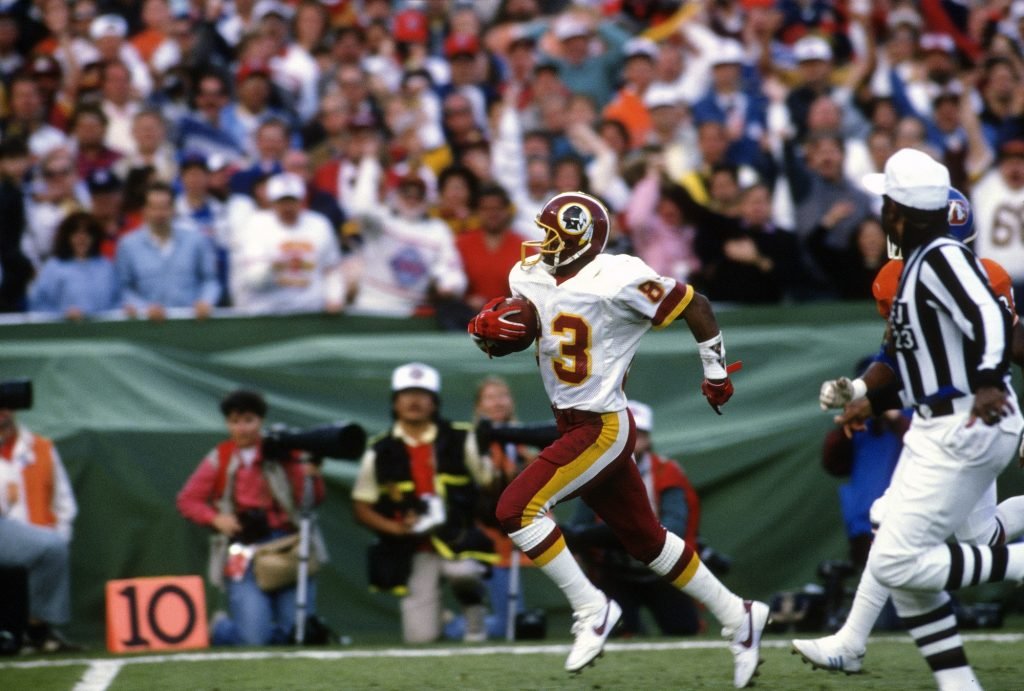 In what's often considered to be the greatest game in his NFL career, Ricky Sanders put up incredible numbers in this crushing 42 to 10 victory against, yet again, the Denver Broncos. Sanders put up 193 yards and ended the game with a total of 9 receptions. Two of his three touchdown passes were especially notable as they went for 80 and 50 yards. Many overlook Sanders when discussing the best receivers in the league, but everyone can agree that he earned his spot on this list with that unforgettable Super Bowl performance.
1. Jerry Rice, Super Bowl 29 (10 Rec/149 Yds/3 TD)
---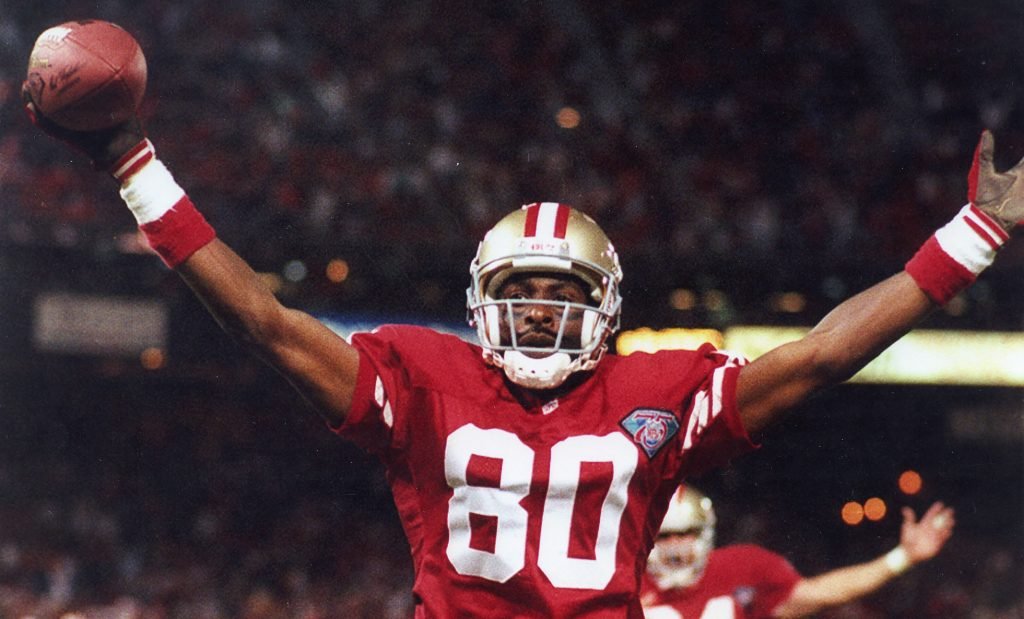 Unsurprisingly, Jerry Rice claims the number one spot on our list with an awe inspiring performance in Super Bowl 29 against the San Diego Chargers. Rather than Joe Montana, this year saw Rice pair with a different quarterback. Yet that did not seem to make much of a difference as Rice would go on to catch a total of 10 passes and finished the game with 149 yards. He would again catch 3 touchdown receptions. In his final Super Bowl appearance, Rice solidified his position as one of the greatest receivers of all time.
That does it for our list. Do you agree with our picks? Do you think we missed anything? Feel free to let us know or post your own list below!