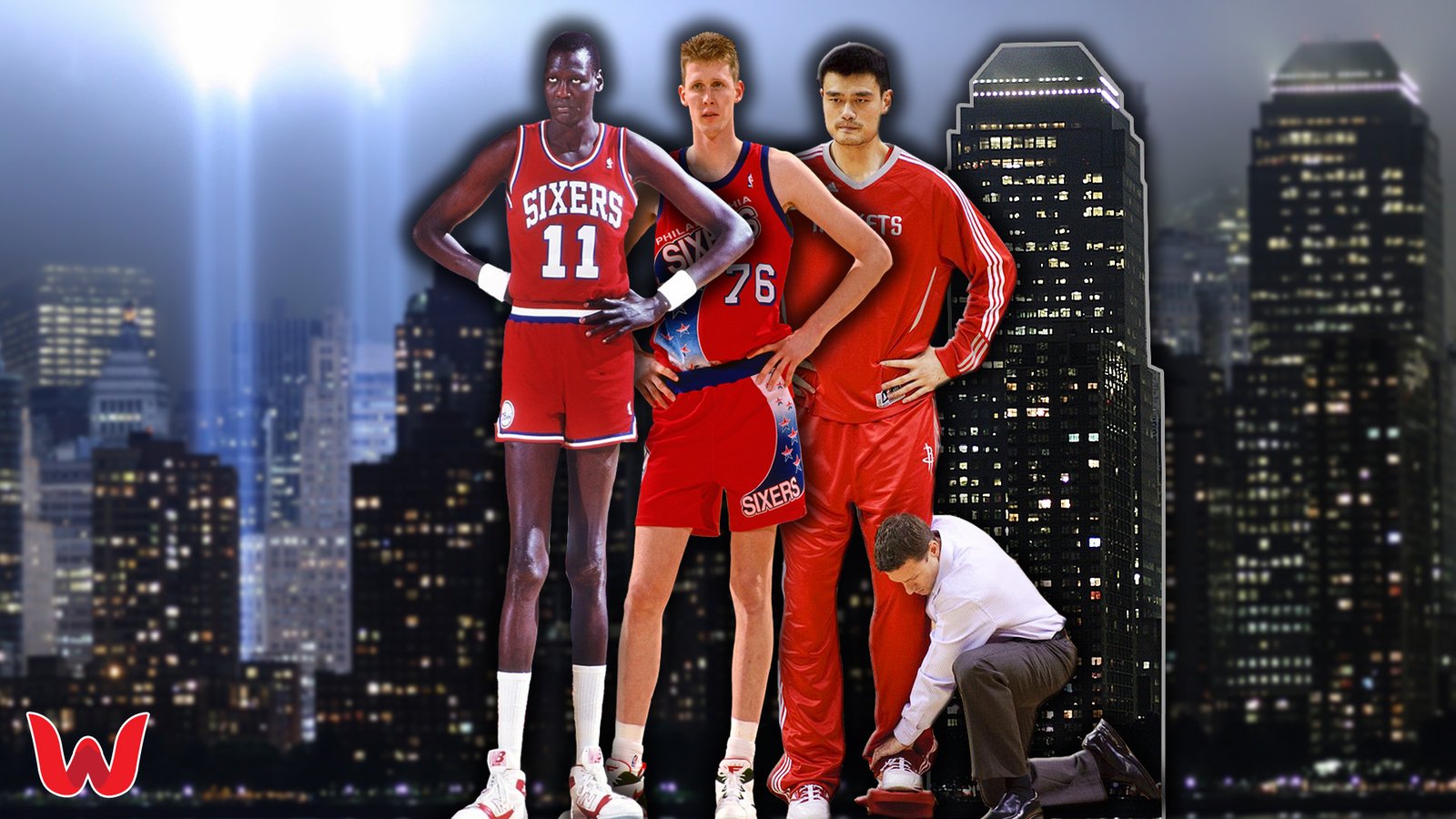 Description
In a sport full of tall people, it can be really hard to stand out. Today, we're looking at the top 10 players who did just that – and then some. This is our list of the 10 tallest NBA players ever.
10. Ralph Sampson – 7-4
---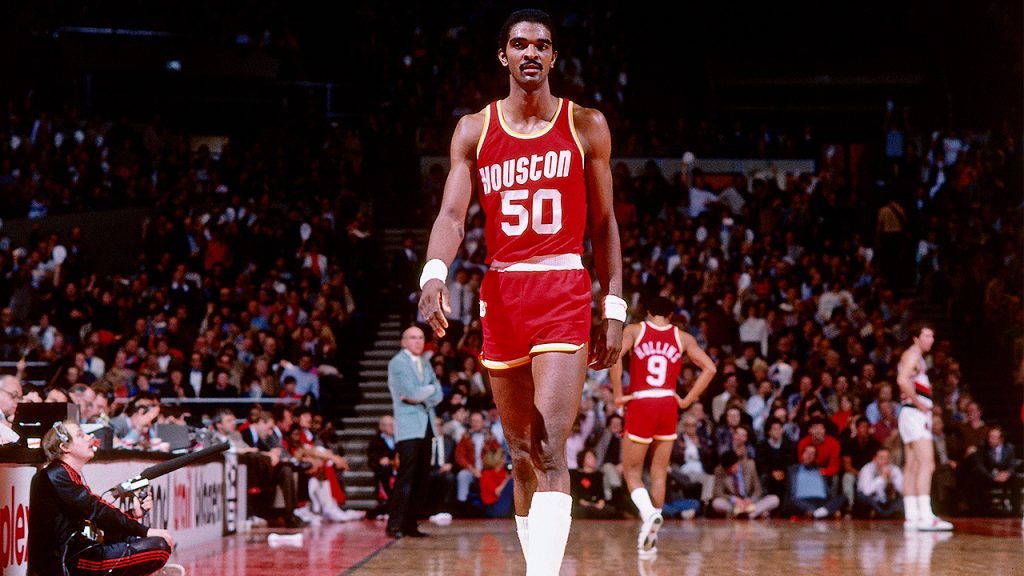 Ralph Sampson is a Hall of Fame center who played for the Rockets, Warriors, and Kings. Houston took him #1 overall in 1983, and he went on to have an illustrious career. Sampson was awarded with Rookie of the Year honors during his first year with the Rockets, and was selected to 4 All Star games. He averaged over 20 points and nearly 11 rebounds for Houston in his first 3 seasons, but three knee surgeries would later cut his promising career short.
9. Mark Eaton – 7-4
---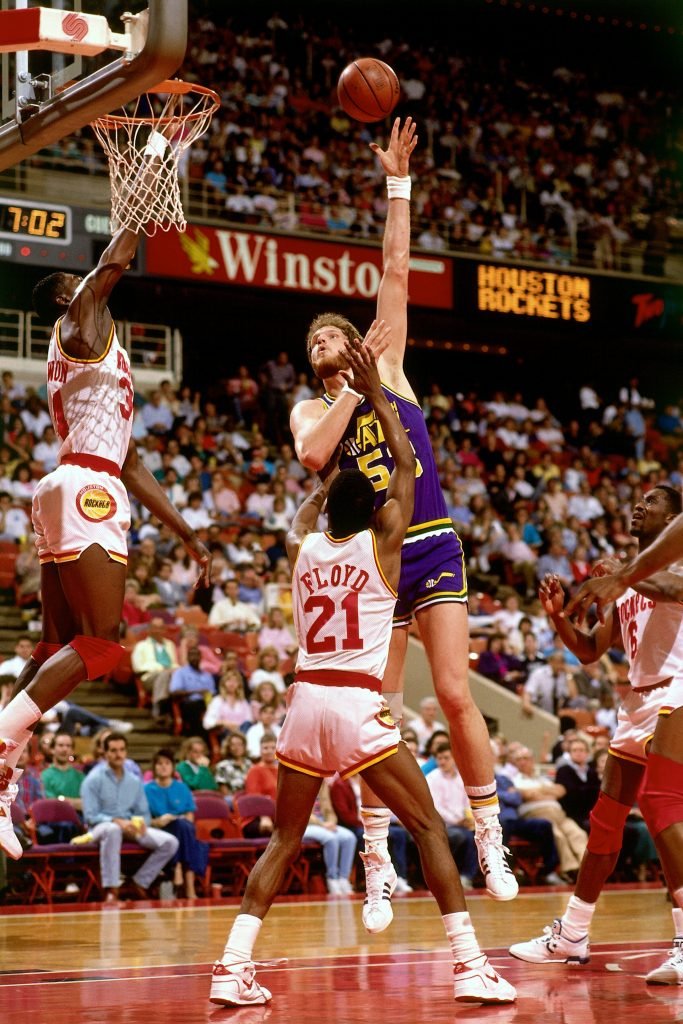 Mark Eaton stood 7-4 and played for the Jazz from 1982-1993. He was a vital piece to the team, where he was awarded Defensive Player of the Year twice and lead the NBA in blocks 4 times. Eaton also has the NBA record for most blocks in a season and has the highest blocks-per-game average of anyone in NBA history. In 1996, Eaton's number 53 jersey was retired by the Jazz to be remembered forever.
8. Rik Smits – 7-4
---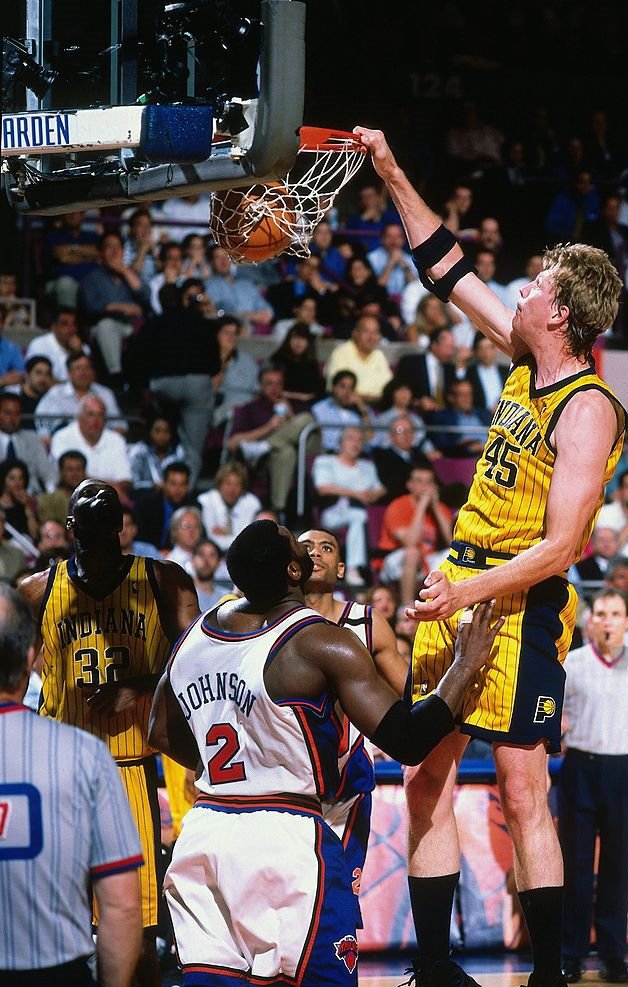 At 7-4, Rik Smits was a solid center for the Indiana Pacers from 1988-2000. The Dunking Dutchman earned himself an All-Star selection, and helped Reggie Miller and company reach the playoffs in 10 of his 12 seasons with the team. Smits averaged a respectable 15 points per game during his career, and was a true asset to Indiana through the 90's.
7. Slavko Vranes – 7-5
---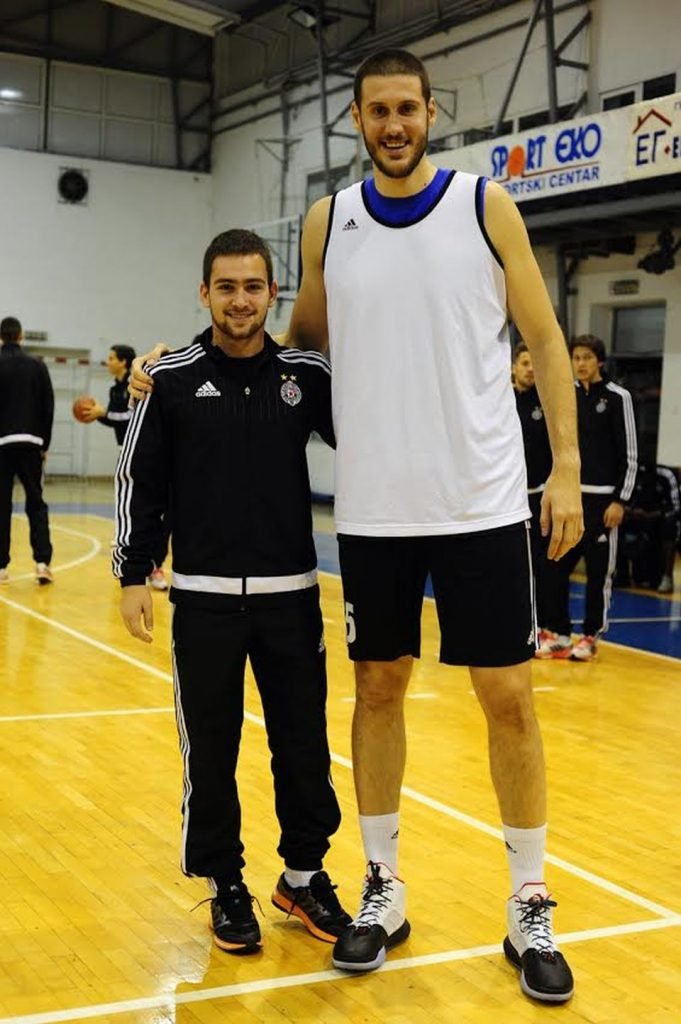 Yugoslavian-born Slavko Vranes stands 7-5 and was a flash in the pan in the NBA. He was picked up by the Knicks in 2003, only to be waived by them and sent to the Blazers. Portland signed him to a whopping 10-day contract, during which he only saw 3 minutes on the court. He missed his only NBA shot attempt, proving Eminem right in that you only get one shot.
6. Pavel Podkolzin – 7-5
---
A name casual fans may not know, 7-5 Pavel Podkolzin was drafted by the Jazz in 2004 and traded to the Mavericks right away. His NBA career lasted only 2 seasons, during which he played short minutes in just 6 games. Pavel now plays overseas for the Russian Basketball Super League 1.
5. Chuck Nevitt – 7-5
---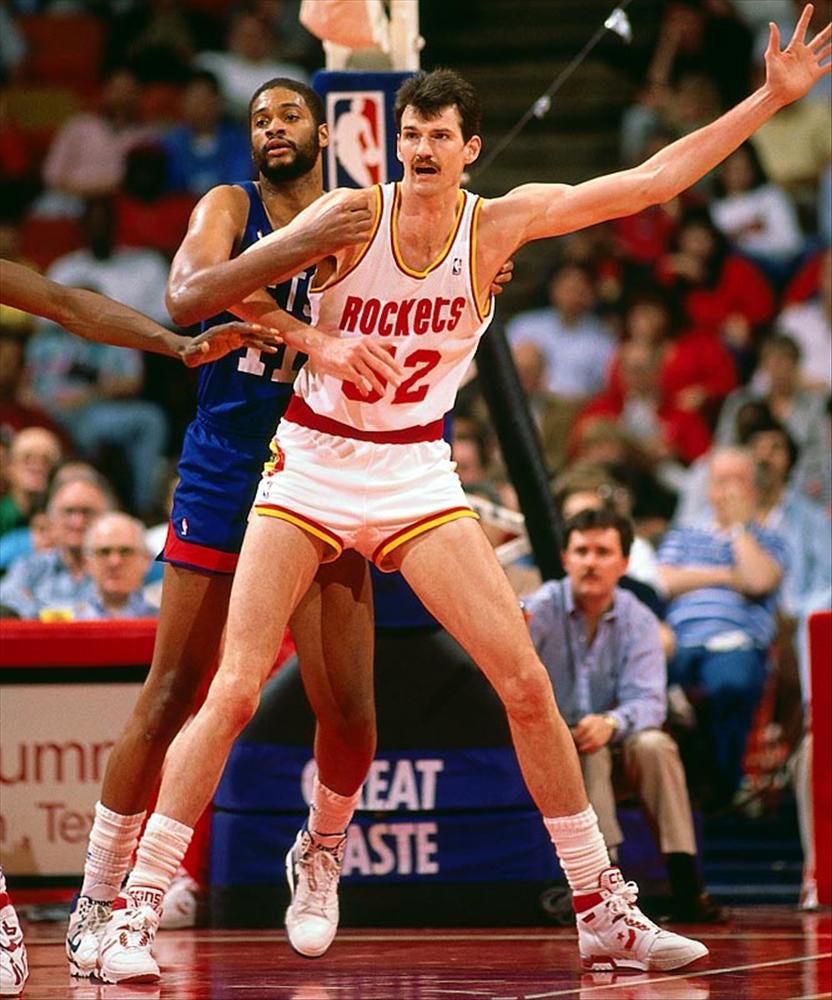 At 7-5, Chuck Nevitt is distinguished as the tallest player to ever win an NBA championship, winning a ring with the Lakers in 1985. Unfortunately, Nevitt didn't have much to do with the championship, as he played only 826 minutes in his entire 9 year career, which computes to around 17 full games of playing time.
4. Yao Ming – 7-6
---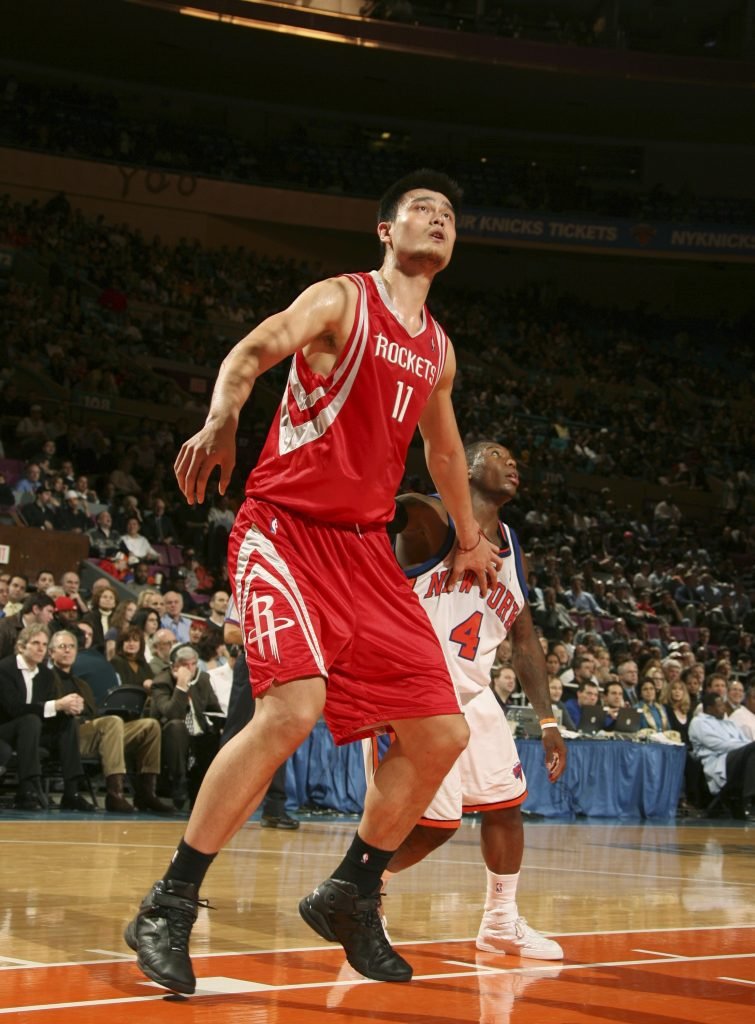 The most well-known player on this list, 7-6 Yao Ming had a celebrated career with the Rockets, earning 8 all star selections. Yao was chosen as the number 1 overall pick by Houston in 1997, where he would remain until he retired in 2011. Yao is a mega-celebrity in his home country of China, where he still has multiple active sponserships. In 2016, Yao Ming was elected to the NBA Hall Of Fame, where he will be remembered for his achievements forever.
3. Shawn Bradley – 7-6
---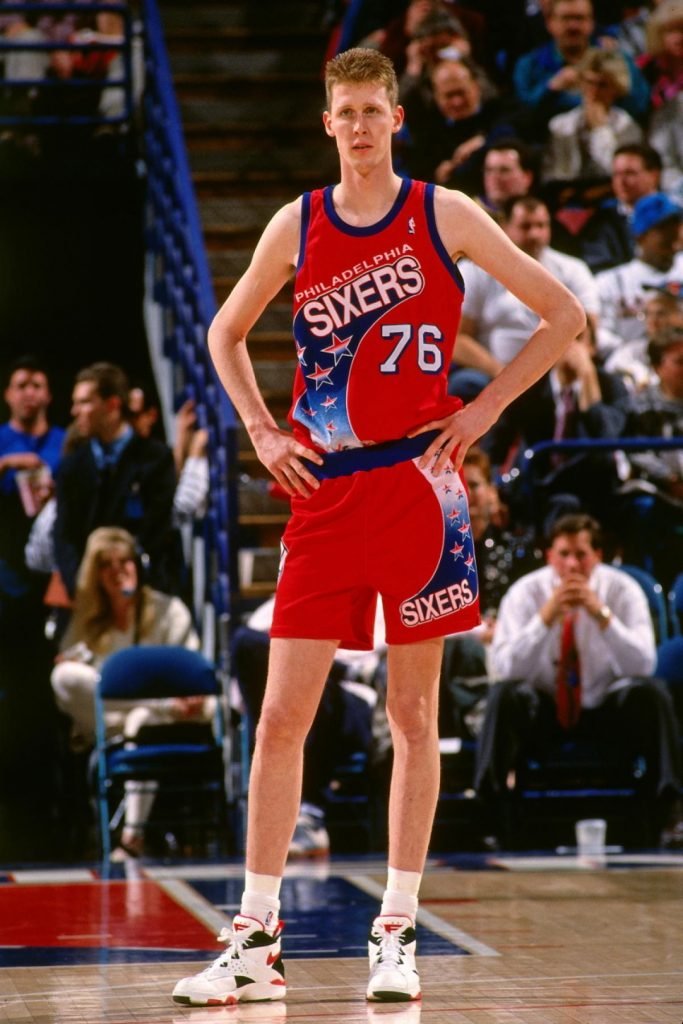 Shawn Bradley, known for his time on the Sixers, Nets and Mavs, led the league in blocks in 2001 and blocks per game in 1997. Many remember him as being the second overall draft pick in 1993, where he was picked up by the Sixers.The "Stormin Mormon" also has some time behind the camera, appearing in the movie Space Jam and an episode of Walker, Texas Ranger.
2. Gheorghe Muresan – 7-7
---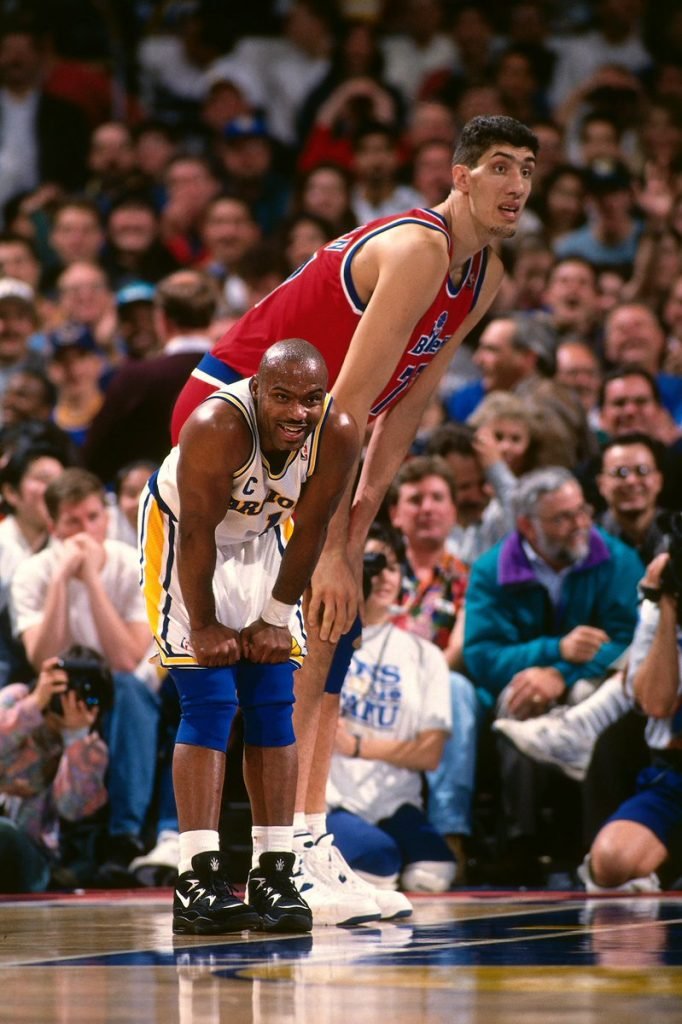 Gheorghe Muresan played most of his career with the Washington Bullets. At a towering 7-7, the Romanian won the NBA's Most Improved Player award in 1996. You may recognize Muresan from the 1998 movie "My Giant", where he co-starred alongside Billy Crystal.
1. Manute Bol – 7-7
---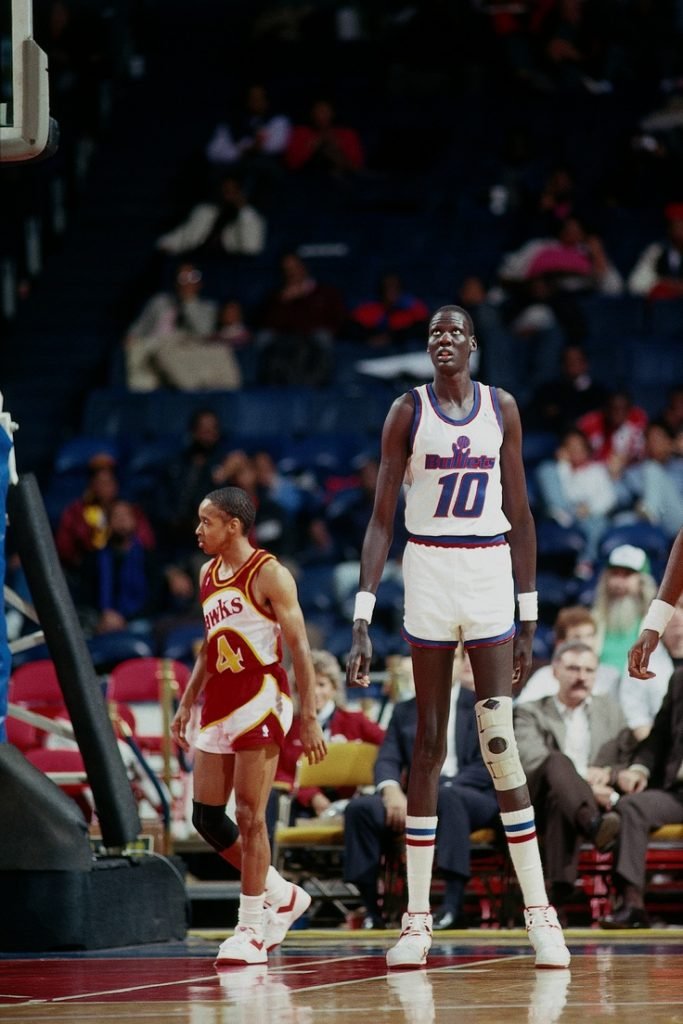 Also measuring in at 7-7 is Manute Bol, who played for the Sixers, Warriors, Heat, and Bullets, and led the NBA in blocks twice. This giant claimed to have killed a lion with a spear in his home country of Sedan. Bol's size ran in the family, as his father was 6-8, his mother 6-10 and his great grandfather was somehow even taller than him at 7-10.
We hope you enjoyed our list of the top 10 tallest NBA players ever! Make a suggestion in the comments below about what kinds of videos/articles you'd like to see next. Thank you!